Pricing for Tattoo, Hair, and Vein Removal
Small Area
$100 (Single Treatment)
$500 (6 Sessions)
Medium Area
$250 (Single Treatment)
$1,250 (6 Sessions)
Large Area
$ 400 (Single Treatment)
$2,000 (6 Sessions)

Spectra Hollywood Peel : $175
Spectra Peel is the application of specialized laser energy to reduce visible skin pigmentation, improve skin tone, and more. Spectra Hollywood Laser Peel not only improves uneven pigment but can also reduce the appearance of textural irregularities and fine lines.
The laser energy works in two ways, first, it gently targets the melanin (pigmentation) in the cells breaking it up for your body's natural removal processes, and second, it heats deep in the dermis causing the skin to contract and stimulate collagen. Because the treatment is gentle, multiple passes are needed in order to obtain optimal results. Laser energy lightly removes Spectra Lotion, heating the dermis and lightly ablating the top layer of dead skin. The laser energy breaks up pigment, which is then carried away by your body, and heats the skin causing the skin to contract while at the same time stimulating the building of collagen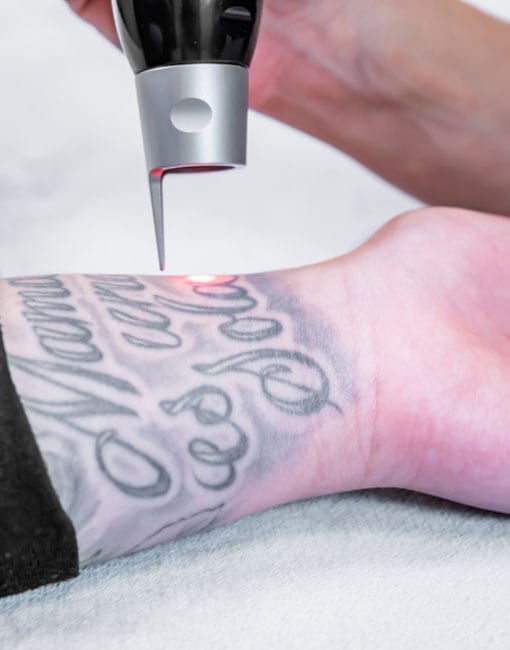 Tattoo removal
How Are Tattoos Removed?
Medical lasers use a beam of light to significantly lighten or completely remove your tattoo. When the ink particles absorb the light from the laser, they are broken up into fragments and then absorbed through your body's immune system. This process generally takes a few weeks. The larger the tattoo, the more sessions it will take to break down the ink particles.
How Many Treatments Will I Need?
The number of treatments required for optimal results depends on the size, location, depth and color of the tattoo. Treatment should be performed 8-12 weeks apart in order to allow the body to remove the maximum amount of tattoo pigment after each treatment.
Laser hair removal
Laser hair removal is one of the most commonly done cosmetic procedures in the U.S. Highly concentrated light is beamed onto hair follicles and the pigment in the follicles absorb the light, which destroys the hair pigment and reduces the hair.
While laser hair removal can be performed on virtually any skin color and hair type, hair color is the most important factor. The light emitted from the laser is attracted to the melanin (dark pigment) in the hair follicle. This means that dark hair is treated most effectively. Treatments performed on red, blonde and gray hair are not generally as effective.
All laser hair removal treatments are performed by experts at the top of their field and are ready to help you reach your absolute best!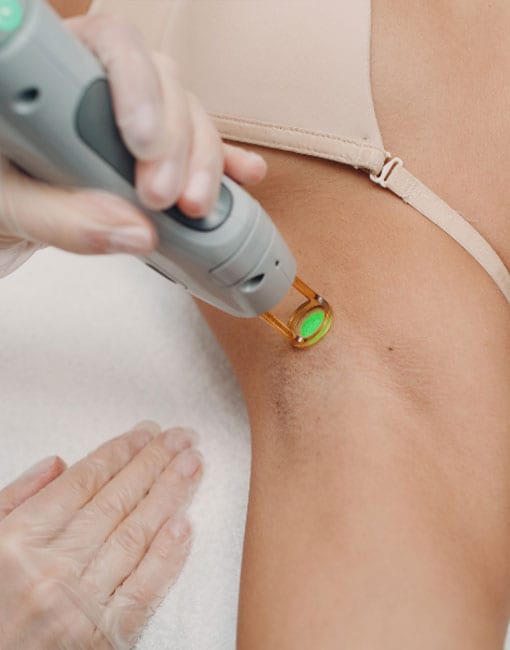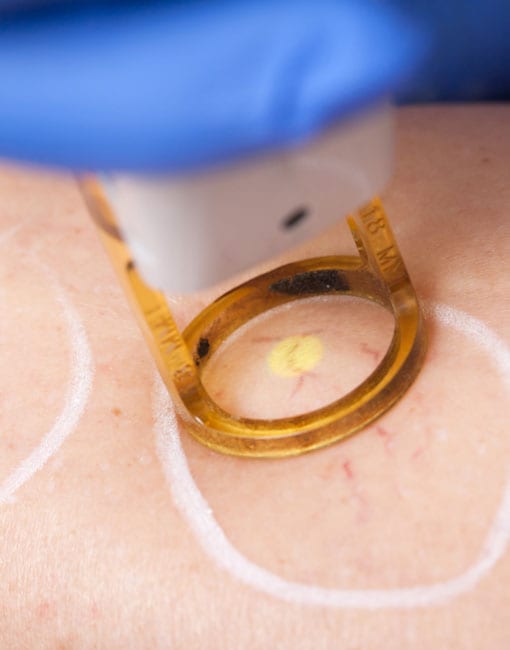 Spider vein treatment
NO INCISIONS. NO NEEDLES.
Our Candela Nd- YAG Laser utilize light energy that's finely tuned such that it is selectively absorbed by oxyhemoglobin in the blood and converted into thermal energy. When applied to the skin, this intense heat causes rapid coagulation of the blood, injury to the vein, and thrombosis (clotting) of the target vessel.
The laser treatment works by sending strong bursts of light into the vein that cause the vein to slowly fade and disappear. After treatment, blood vessels fade over several months but may not disappear completely.
Fight the Signs of Aging
By using radiofrequency energy and a temperature-controlled hand piece, your provider will gently heat targeted tissues below your skin, until the desired endpoint is achieved.
Restore a more youthful look from top to décolletage (forehead, eyes, cheeks, mouth, neck, and chest).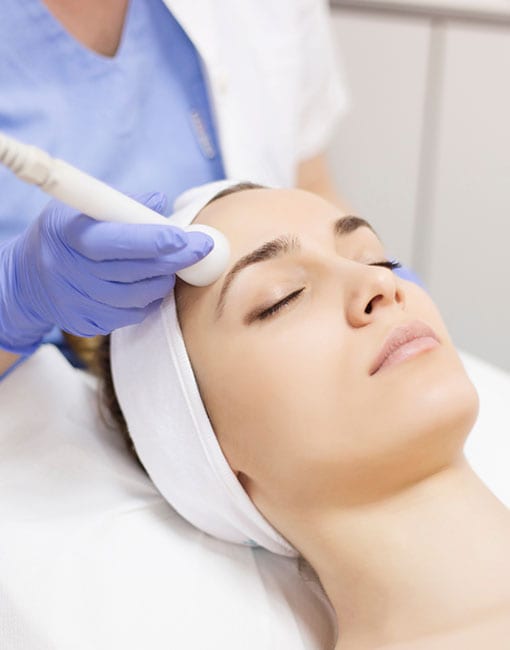 Thermi Smooth
The Use of Radiofrequency Energy- Many people search for an effective and long-lasting way to combat the signs of aging without surgery. By using radiofrequency energy, skin is heated to stimulate and re-build your body's own collagen.
Important Safety Considerations: Thermi® radiofrequency products should not be used on patients who are pregnant, have a fever or skin infection in or around the area of application. Expected procedure side effects may include transient pain in the procedure area, erythema, and edema.
Thermi's temperature-controlled RF system is indicated: For use in dermatological and general surgical procedures for electrocoagulation and hemostasis
* Individual results may vary
Pricing
1 Treatment for $300
4 Treatments for $1,000
Profound RF
The Profound® system provides a non-surgical alternative to address aging skin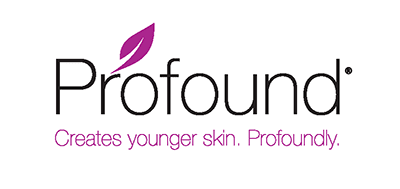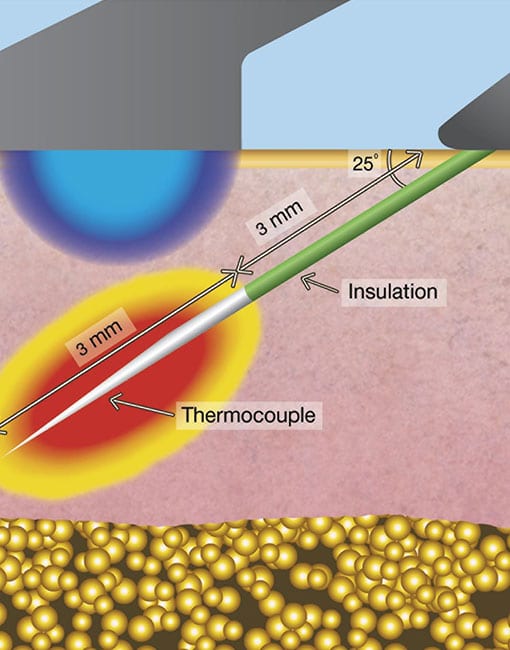 Profound RF
Using radiofrequency (RF) injectable energy, provides long-lasting facial wrinkle reduction and improves the appearance of cellulite. Profound RF is a multi-bipolar, long-pulse, radio-frequency, micro-needling device that has the unique capability of measuring skin impedance between needle pairs and adjusting the current instantaneously, to deliver the exact amount of energy selected to produce a safe treatment that reliably smooths and tightens skin. One of the more impressive features of Profound RF is that there is a 100% response rate to treatment, which is unique for non-ablative, non-surgical technologies. However, that does not mean that the results will match your expectations so a consultation is critical to determine if Profound RF is right for you.
Face $4500
Face and Neck $6000
Body Area $6000